America's National Independence Day Parade takes place annually on July 4th at 11:45 am in Washington, D.C., on Constitution Avenue from 7th to 17th Street before a street audience of hundreds of thousands of spectators.
The Parade consists of invited bands, fife and drum corps, floats, military and specialty units, giant balloons, equestrian, drill teams, VIP's, national dignitaries, and celebrity participants. Click below to apply to join the Parade!
Without a doubt, volunteers are key to making a large-scale event happen! If you are looking for opportunities to volunteer in a fun and fulfilling event, we would love to have you join us in helping organize this incredible experience!
Welcome to the National Independence Day Parade Website!
Historic Constitution Avenue and the Monuments in Washington, D.C. form the setting for America's biggest and best Independence Day Parade. Nowhere is there greater excitement on America's birthday than in our nation's capital!
We are excited for the return of the National Independence Day Parade in 2023!
The parade will begin LIVE on Constitution Ave. between 7th and 17th St. in Washington, DC at 11:45 am EDT. You can also watch a full and uninterrupted recording of the parade on our YouTube channel. The recording will be available shortly after the completion of the parade.

Frequently Asked Questions
When does the Parade start?
The parade starts at 11:45am and runs until 2:00pm
How long is the Parade route?
The parade route is one mile in length, starting at the corner of Constitution Ave NW and 7th St NW, and ending at Constitution Ave NW and 17th St NW.
Is there seating along the Parade route?
There is limited seating available on the steps of the National Archives Building.
How can I watch the Parade?
The National Independence Day Parade will be available to view at july4thparade.com/watch shortly after the completion of the parade.
Is there an alternate time for the parade in case of inclement weather?
No, if weather is severe enough, the parade will be cancelled.
Where is the best spot to view the Parade?
Generally, the closer one gets toward the end of the parade route, at 17th St NW, the less crowded it is and therefore it's easier to see the route.
Contact Us for More Information
If you would like to be part of the parade or have questions about the event, we are happy to help!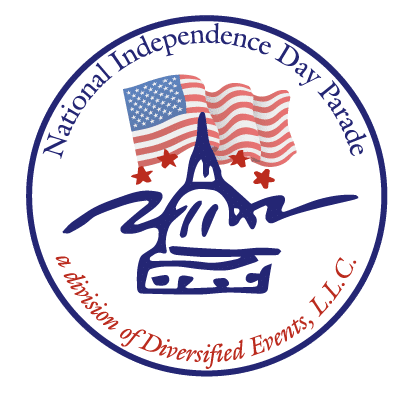 All contents of this website are copyrighted by NIDP and Diversified Events
Address
1440 S. Priest Dr., Suite 102
Tempe, AZ 85281-6954